People sometimes ask me why I present my suppliers, why I share my tricks and trades, and why I reveal my innovations to be public property instead of protected by patents. Why? The answer is simple: to raise the over all standards of bamboo ski poles! If more manufacturers use the superior Calcutta bamboo, Tehnomat's premium pole parts, my type of screw-on ferrules, and so on, the general quality of bamboo ski poles will be higher. The big winner is not only the bamboo ski pole business but also the climate and environment. To solve the climate crisis and protect our winters, we need collaboration, not protectionism.
I have written about my bamboo grower and my own ferrule invention. Now it's time to present the manufacturer behind the grips and baskets. Tehnomat (pronounced "Technomat") dominates the ski pole accessory business. Today, they supply about 75 percent of all the bamboo ski pole makers with grips, baskets, ferrules, straps, and tips. So, without Tehnomat, the bamboo pole business would look very different.
Tehnomat—the world's leading pole part manufacturer
Tehnomat was established in 1991 by Uroš Česnik. Before that, his father had the same practice but on a much smaller scale. Tehnomat is still a family-owned company, but it has grown and now resides in a 2,400 square meter factory in the picturesque mountain town of Kranj, northwest Slovenia. In 2009, Tehnomat took over the ski pole accessories sales program from the German company Kunzmann. But Tehnomat doesn't only sell parts. They sell their own poles too and have done so since the mid-1990s.
The company employs 13 people and is organized into three units. One unit for injection and molding that produces a variety of plastic products. Another for toolmaking, which designs and produces the actual molds for each product. And a third unit for Tehnomat's own brand, which produces their own line of final products and poles.
Tehnomat also makes parts for established big brands, and not only ski poles. We're talking about parts for everything from telescopic hiking and trekking poles to Nordic cross-country poles and roller ski poles. If you want your own design and can afford your own mold, Tehnomat can make it for you!
The most popular grips and baskets
Among my own customers, the most popular grip is a touring grip made of 50/50 cork and thermoplastic elastomer (TPE-SEBS, a synthetic rubber). That grip, FK1522/K, is also the most popular grip among Tehnomat's customers. The "cork" grip is ten grams lighter than the 100 percent synthetic rubber grips. But for us bamboo pole makers, cork is in fact a challenge. We must be quite careful with the cork grips since cork is not as strong as synthetic rubber. The diameter of the bamboo and the grip must match very precisely, or the cork can crack.
Among baskets, we have an absolute winner: the threaded freeride basket FK1026/G. It is 100 millimeters in diameter and comes in a wide color palette, as you can see on my website. It's made of modified low-density polyethylene copolymer (LD-PE). It is very reliable and stays flexible down to minus 30 degrees Celsius.
The FK1026/G is a detachable basket that you can screw on and off and replace with smaller threaded baskets for groomers or even larger ones for ski touring. To do so, you need Tehnomat's matching plastic ferrules. This is also the favorite basket among my own customers. But since I have developed my own aluminum ferrules, you can't detach the baskets on my poles by unscrewing. In my design, you must knock them off, just like with regular ski poles. On the other hand, my ferrules firmly stay put on the poles.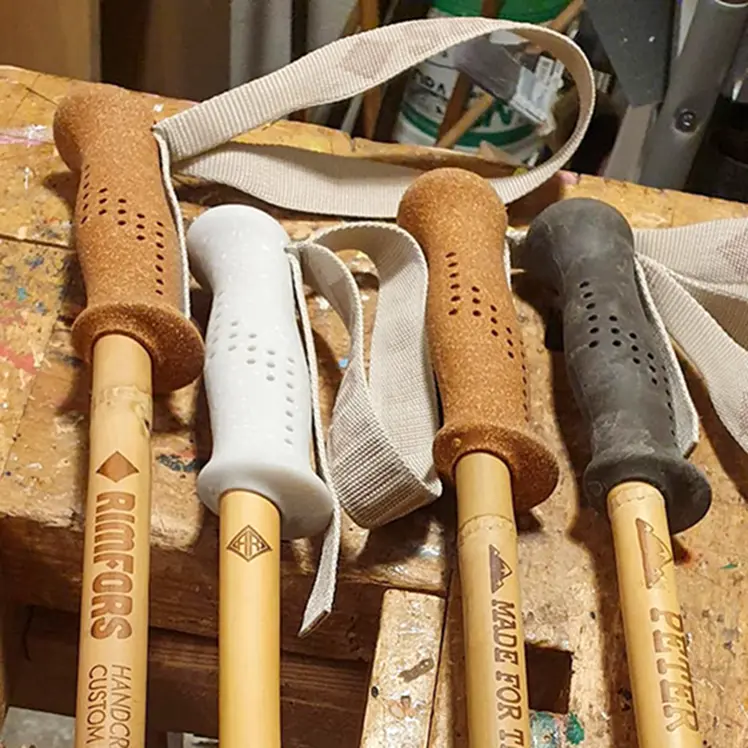 Bio-based grips
Three years ago, Tehnomat sent me a few bio-based grips. They were all prototypes made of three distinct recycled materials, mixed with scrap or post-industrial waste. For myself, I built a pair of poles with red grips made of hemp and bio-based plastic. I just sold a beautiful pair of poles with purple grips made of recycled paper and bio-based plastic. This version also came in white. The third bio-based grip is made of recycled black leather and bio-based plastic. It even has a slight scent of leather.
Unfortunately, the stock of granulate with recycled paper, leather, and hemp was limited and is no longer available. Therefore, the bio-based grips I offer are the last ones you can get. It was a research project to prove that recycled materials from different industries can be used in plastic products.
Uroš constantly has his eyes open for any potential new supplier, and he regularly attends trade shows and seminars on plastic injection and tech development. But so far, he hasn't found any. In the meantime, Tehnomat strives to recycle as much of the materials as possible, including packaging, waste material, and water for cooling down the machines. That water is actually used for central heating of the building.
New freeride basket for the upcoming winter
When you purchase poles from me, you can choose from 80, 90, 100, and 120 mm diameter baskets. But if you buy directly from Tehnomat, you can pick any interval from 30 up to 120 mm. Almost. 110 mm was missing. But not any longer. This year they have designed a new freeride basket with a 110 mm diameter (FK1027). The new basket will be officially presented at the ISPO trade show in Munich at the end of November. If you can't wait until then, you may check out Tehnomat's new catalogue, page 6, on the same page as my oldest son poses with his first pair of bamboo ski poles.
/Fabian Rimfors