*
At last, the long-awaited delivery with super bamboo has arrived after its long boat trip from the Orient. I have been involved all the way, from the harvest in northeast India to the reloading in Calcutta on a ship bound for Europe, well worth waiting for. Ever since the idea struck me to start making bamboo ski poles, I have been looking for the best possible raw materials. Finally I have found the perfect shafts.
Last winter I got some samples of Calcutta bamboo (Dendrocalamus strictus) and made a first pair of ski poles. The poles are flawless. First of all, they are more durable than the ones I have previously made from Tonkin bamboo (Pseudosasa amabilis). Secondly, the new bamboo sticks are also more tapered and therefore resemble traditional ski poles more. Together with some colleagues in the bamboo ski stick business, we decided to import directly from the source and share an order.
It has now been almost a year since I first got in touch with Dipankar in Calcutta. His company DS Export International sells various types of bamboo via calcuttabamboopole.com. A good part goes to ski pole manufacturers in the USA. The high quality is striking. The measurements are ideal and it looks like every bamboo cane will make a perfect ski pole. With Tonkin bamboo, more sticks went directly to my garden than the ski slope. The dimensions simply vary too much—too thick or too narrow.
But who is this saviour in the bamboo jungle? Dipankar have bamboo in his blood and have been in the export business for over two decades. The last one exclusively with bamboo. But why bamboo? And what is behind the high quality?
Dipankar talks about his Calcutta bamboo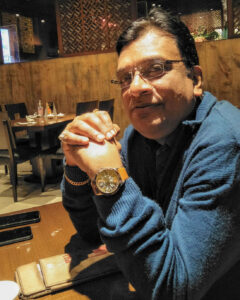 "My late maternal uncle and aunt were both in the bamboo business and had their own bamboo gardens in West Bengal. I often visited the fields with them, and I slowly developed my interest in bamboo. They inspired me to start my own business in bamboo products and I'm very grateful to them for that. They were my role models and contributed to the success of my business today," says Dipankar who runs his company as a big family.
"Since then, I have worked day and night to learn everything about bamboo to improve the quality and train my staff so that we can meet market demands. I am still learning to be able to deliver the best possible products to my customers."
The first bamboo products Dipankar sold were fishing tackles and the year was 2010. In the winter of 2013–2014 came the first order of bamboo that would become ski poles. It came from the United States half across the globe.
Bamboo from the northeastern woodlands
"Our bamboo grows up in our own unit in the forested region of northeast India. Up there, the climate, the soil and the temperature are ideal to get the highest possible quality of the Bambusa genus we work with," Dipankar explains.
More than a dozen people work at the forest unit. They handle harvesting, sorting and treat the bamboo to meet the specific requirements for straight poles with exact dimensions.
……………………………………………….
"They are all trained and skilled artisans who control each and every bamboo stick individually."
……………………………………………….
"The staff is an important part of my business family. Quality and commitment are our main hallmarks," Dipankar points out. "They are all trained and skilled artisans who control each and every bamboo stick individually. We are very cautious about quality. From the stage of extraction until finishing. Top quality is maintained through proper checking and selection. My staff is the key to achieve our persistent high standards."
"This variant of bamboo is not produced in bulk. Moreover, the harvesting and processing of bamboo is put to a halt for four months every year, from June to mid-September, during the monsoon season. Annually, we produce about 35,000 to 50,000 top quality bamboo canes. Of these, we export between 60 and 70 percent to ski pole manufacturers. The rest will be fishing tackle, fishing gaff, rods and shafts for various equipment."
Bamboo known by many names
"Calcutta bamboo" is just one of the nicknames Dendrocalamus strictus has been given over the years. Other names are "solid bamboo", "male bamboo", and "iron bamboo", all coined by vendors to describe the properties. But just like for Tonkin bamboo shipped from the Tonkin Bay, it was the place of export that made the biggest impression.
"During the British period in India, fishing tackle made from this bamboo used to be exported from the port of Calcutta to other continents, mainly to America. It simply gained its name as 'Calcutta bamboo'," states Dipankar, looking forward to developing his business with feedback from his customers.
* * *
Now one third of the delivery is on its way to Bumbear Poles in Bulgaria and soon another third will go up to Jocke and Pancho in Borgafjäll, northwest Sweden. From my own third I have already made a pair of poles. I can confirm: better raw material for ski pole shafts is probably impossible to find.
P.S. To be involved from one end to the other—from the source to skiing—is true transparency and pure pleasure!
/Fabian Rimfors