Why should I make your ski poles when you can build them yourself? It's both fun and usually easy to create things yourself, at least that's what I think. I'm not into this to peddle poles trying to get rich. I do this to cause less damage to the climate and the environment. Bamboo ski poles may be a drop in the ocean for the climate, but many small streams make a big river … so the more ski poles of bamboo on the mountains the better.[1]
To build your own bamboo ski poles is quite cheap. If you have a couple of broken poles, you can get grips and baskets from them. Bamboo of the highest quality, straight with thick walls, may not be easy to find everywhere. But you can start with any quality. All bamboo in hardware stores and garden markets is Tonkin bamboo, and with a little luck you'll find excellent canes there. You can buy specialized ferrules[2] if you can't come up with an idea of how to reuse the old tips from your aluminum poles. Check below for links to where you can buy bamboo, grips, baskets, ferrules, tips and straps.
1 Bamboo offers a powerful climate change solution that has been ranked as the 35th most effective solution by researchers in Project Drawdown.
2 The ferrule is the cap, of aluminum or plastic, put around the end the cane to prevent splitting and to secure the bamboo, and which to attach the tip and the basket.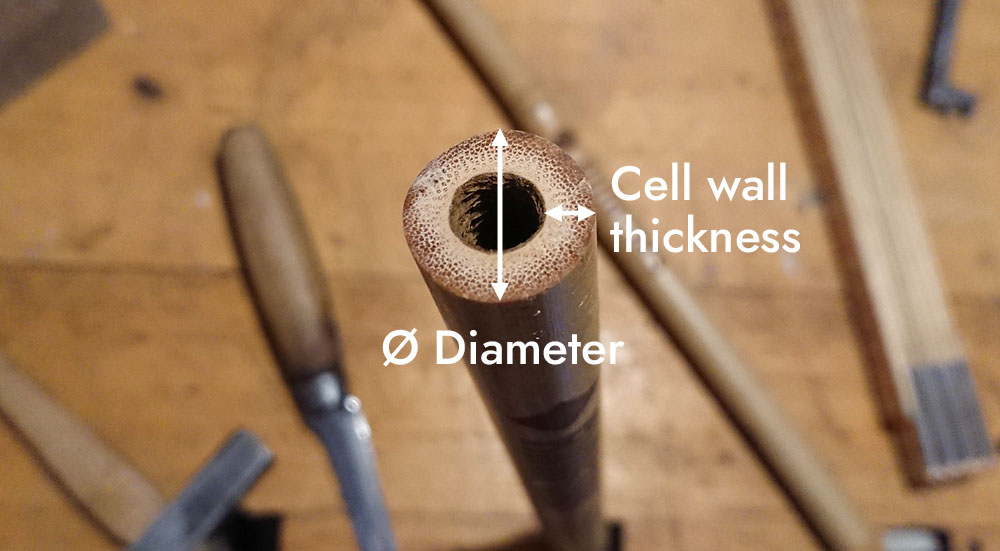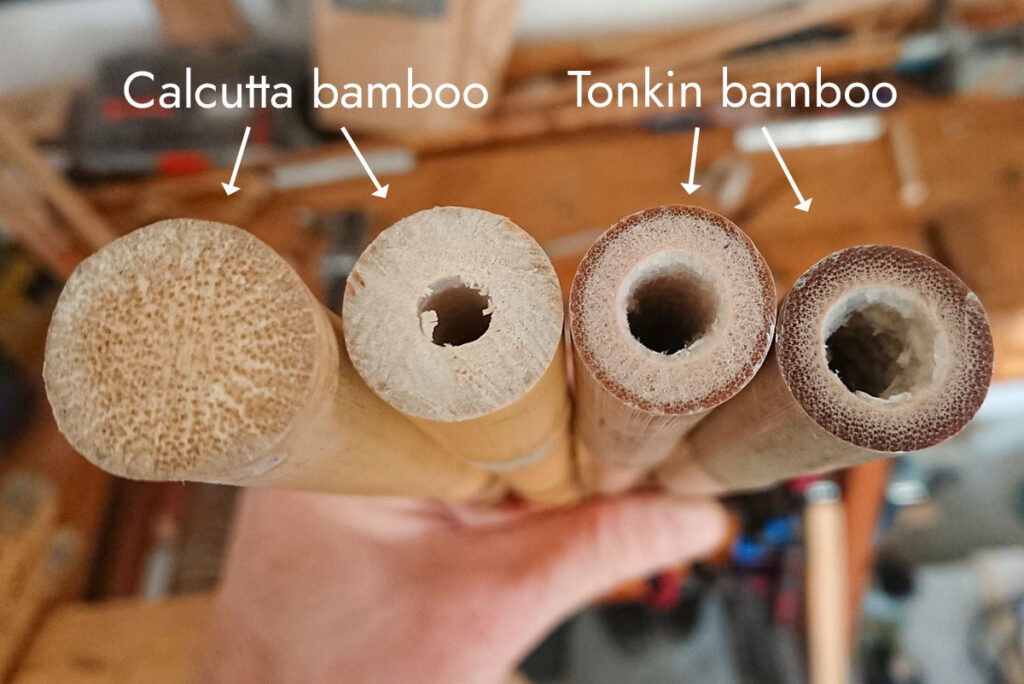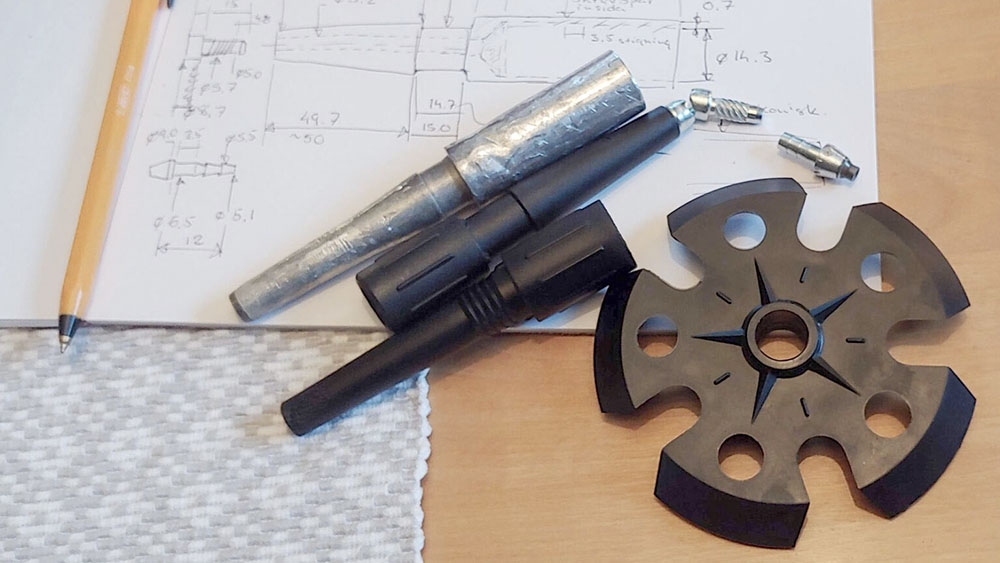 Building your own bamboo ski poles
This is how I basically build my ski poles. However, I have an updated ferrule with internal threads that I secure with borth glue and by screwing it onto the bamboo. Here is a DIY for all of you that don't have my kind of ferrule. For this you need the following:
Materials
Bamboo canes
Grips
Straps and screws
Ferrules/tips
Baskets that fit the ferrules
Tools
Jig saw or "Japanese saw" (manual)
Knife
Flat hand file (fine)
Glue gun and hot melt adhesive stick (EVA based)
Optional: Pop rivets + pop rivet gun, or wood plugs + wood glue (only if you use rubber-like grip)
DIY instructions step by step
Time needed: 2 hours
If you have the parts and the tools mentioned above you're good to go.
Finding and matching bamboo canes

Begin by finding two bamboo canes that match each other as much as possible. They should have the same diameters, the same thickness of the cell walls, and preferably the nodes at the same interval. Then you get a well-balanced feeling with the poles.

Calculate the lengths

Calculate how long your ski poles you should be—the total length from the top of the grip to the bottom of the tip. If you don't know that, check out this link! Once you know your total pole length, calculate how long the bamboo cane itself should be! Do this by measuring how much the grip and ferrule/tip add to the height. The length of the bamboo cane is simply your total ski pole length minus A and C. Then B becomes the measurement of the shaft.

Cut and adapt the bamboo canes

Now match the diameter of your grips and ferrules with your bamboo canes. If they fit perfectly, just attach the grips by pressing them on and the ferrules by fittig them on with the hot melt adhesive. However, I think it's good if the canes are slightly thicker, because then you usually get a stronger and more durable pole material. In that case, I carefully carve around the bamboo cane and file until it fits perfectly in the grips and ferrules. Personally I prefer if the grips are hard to press on, because then I don't need any hot melt adhesive, but the ferrules should be easy to press on at the bottom. When I use Tehnomat's rubber-like grips I prefer 1 mm wider diameter bamboo than the holes in the grips, for example Ø16 mm grips for Ø17 mm bamboo.

Mounting the grips

Bevel and trim the edges of the canes with a knife. If the grips are difficult to press on, use "the old plumber's trick": dip a finger in liquid linseed oil soap and rub it inside the grip. That makes it easier to press on the grips. If the grips aren't rock solid on your canes, you must use hot melt adhesive. Note! If you use soft rubber-like grips, the screws may not attach well enough to secure the straps. In that case you may glue a wooden plug in the hole of the thick end of your canes, before attaching the grips.

Mount the ferrules

Tehnomt's plastic ferrules don't offer much surface area to glue on. Therefore I have made my own aluminum ferrules (courtesy of Gnosjö Automatsvarvning) that are easy to mount with only hot melt glue. Plastic ferrules are also easy to attach with hot melt adhesive, but the question is, will they stay put? If you buy plastic ferrules from Tehnomat, there are two ways to anchor them:
With hot melt glue only: Press hot melt glue into the ferrule and rotate as you press on the ferrule.
With hot melt glue + pop rivet: Attach the ferrule with hot melt adhesive. Then drill a hole with the same diameter as the pop rivet. Drill through both the ferrule and the bamboo, but only on one side. Pop the rivet! See pictures below!
With plug and screw: Carve wooden plugs and drill holes all the way through. Then screw a decking screw all the way through. Then glue the plug with the screw tip pointing outwards (see picture below) using wood glue. The ferrule from Tehnomat have a hole all the way through, of approx Ø5 mm, for the carbide tip itself, and with a screw and hot melt adhesive they are firmly locked to the bamboo cane.

Mount the straps

Attach the straps, if you need any. I use stainless steel screws 4×30 mm.

Press on the baskets

Press the baskets on, or screw if you use Tehnomats "threaded" ferrules and baskets.

Done diddly done!

Grip it and rip it!
Finding parts for your bamboo ski poles
Bamboo is available pretty much everywhere, and it is almost always Tonkin bamboo (Pseudosasa amabilis). I use Calcutta bamboo (Dendrocalamus strictus) since it's tougher and stronger, and more tapered like regular ski poles. I buy directly from India but in the USA there are a few importers which also sell small volumes, like Frank's Cane and Rush Supply or Lobster Port Fishing Supply.
Grips are available from Tehnomat. I use "elastic soft" which is a rubber-like grip made of thermoplastic elastomer (TPE-SEBS). Available in Ø16 mm and Ø18 mm. The most eco-friendly choice is to reuse grips from old poles. Instead of regular grips you can make your own extended long grip, like my colleague at Les Bâtons in Switzerland.
Straps are also available at Tehnomat, but if you have used grips, you probably also have used straps. Otherwise, it is easy to make your own from polypropylene webbing and buckles. Webbing is available in several colors and patterns, for example at Jonic-Textil.
Ferrules and ski tips are harder to find. Cylindrical ferrules in plastic are available from Tehnomat and usually come with a tip already mounted, made of steel or tungsten carbide. But if you are handy, you may be able to rebuild the tip from your discarded aluminum ski poles to work with bamboo. At Tehnomat, there are also ferrules with threads, for quick and easy change of baskets, for example between piste and powder baskets.
Baskets are easy to find. If you reuse your old ones, make sure the diameter of the hole matches the ferrule. Tehnomat also has a large selection of baskets.
Go for it and good luck!
Fabian Rimfors
In 2019 I was a beginner at building ski poles. You can read about my first homemade ski sticks here: The Christmas gift for the family – our first very own bamboo ski poles.
* * *