While I'm providing myself with ski pole accessories in order to surprise my family with their very own unique bamboo ski poles for Christmas, it strikes me that I could maybe make poles for a few friends as well, and perhaps some other people too. Suddenly that feels like the most natural thing to do. I'm concerned about our environment and climate, and if I could inspire others to either convert to more eco-friendly ski equipment or make their own bamboo ski poles, it would be a small step in the right direction.
When the idea matured and I had decided to start my own ski pole production, albeit on a tiny scale, I needed a logo. I glanced at my great-grandfather's ski stick advertisement in a newspaper from 1934 where a type-setter, probably by pure chance, used a font with a special "knuckle" on the F. Check out the middle "crossbar" of the F below! Isn't it strikingly similar to the symbol of a black diamond piste? And this was long before grading symbols and colors existed for grading ski slopes, which were added as late as the 1960s. I just have to have something like that.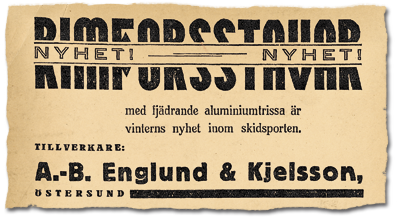 Of course, I can't help but think of the off-piste run Rimfors in Riksgränsen, or rather the sign that marks where you can turn off to run down Rimfors in sweeping serpent turns. The descent is named after my great-grandfather because he often took that run with his clients as head of the ski school. Maybe the F should be supplemented and clarified further, with a big black diamond in front of the brand name? Kind of like the sign in Riksgränsen.
Said and done. Three fonts later and with a little help from friends and colleagues, the new "old logo" sat like a charm. Now all that remained was to get the logo on the poles. You can either hot stamp or etch with a laser. I chose the latter. And after acquiring a laser engraving machine, I'm really happy. And the kids too, after pimping their poles with emblems from football clubs, their own signatures, and their very own customized version of their favorite Lego.
/Fabian Rimfors